On June 1 this year, we bought 100 shares of Roku (ROKU) for the SHU portfolio at $37.77. We also explained why in an article. Needless to say, this has gone rather well in a very short time.
Here is a little update on the SHU portfolio to start off with (Friday, August 10 after market close in chronological order of buying starting on September 29, 2017):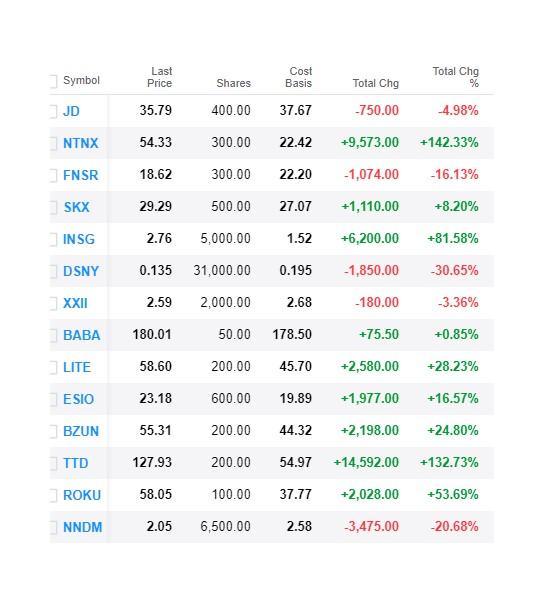 Do we need to revise our original Roku investment thesis? No, not really, apart from the fact that things are going even better than we expected. Here are a number of takeaways from the quarter.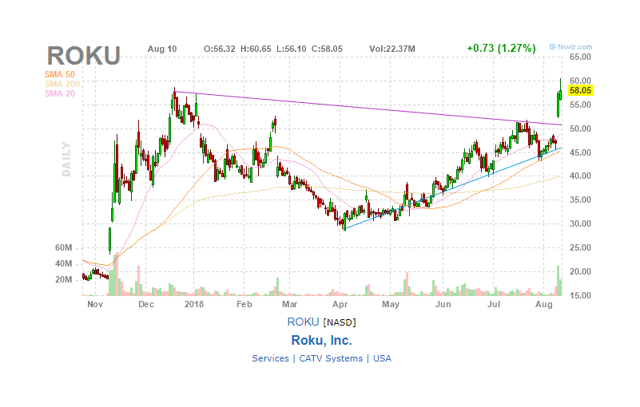 >
Platform growth
There are three main avenues to achieve platform user growth:
The Roku players (HDMI plugin devices)
Licensing their OS to OEMs
The Roku Channel (see below)
The quarter experienced a surprising resurgence in the players with a 24% rise in Q2 revenue (y/y), but this isn't the future, which is that all TVs become smart TVs with an operating system.
The company licenses it as an operating system for TVs, for instance to TCL. One in four TVs sold in the US had Roku inside, driving the smart part of the TV. Here is what management said (Q2CC):
Our thesis is that all TV OEMs will switch to a licensed operating system, just like all phone company, phone makers either license Android or the Apple. That same dynamic is happening in TVs and we're by far the number one licensor of OS to TV manufacturers.
If Roku indeed becomes the dominant operating system for TVs (something we pondered about in our previous article comparing it to OpenTV, a previous generation's effort to do something similar), we have a very long growth path in front of us. Management is very optimistic (Q2CC):
I'd believe that the dynamic of a Roku TV having a better cost structure and much more content and a better user experience is going to result -- is resulting in more and more OEM switching to the licensed OS of which Roku is number one licensor of OS in the U.S. and we expect to remain in that position.
Management argues that their biggest competitor is actually OEM's own operating systems, which bodes pretty well for the foreseeable future.
So the start is very promising, but this is far from a decided course. There are formidable competitors like Amazon (AMZN) and Google (NASDAQ:GOOG) (NASDAQ:GOOGL) (Android TV); we're not mentioning Apple (AAPL) as the latter isn't likely to license its software.
The problem is that switching costs are low, so the early Roku lead isn't as significant as in other technology races, so it isn't time to get comfortable, but neither time to panic. Their lead is real.
Meanwhile, the platform keeps on growing:
Active user accounts grew 46% y/y to 22.0M at the end of Q2
ARPU grew 48% y/y to $16.60 (on a trailing 12-month basis).
These are the two main metrics and together these produce a platform revenue growth of 96% y/y. This points to a rather bright future if the company can maintain this growth.
We would normally argue that the law of large numbers will slow this down, but the numbers aren't actually all that large still and the company is very early in its monetization efforts, so hype growth could actually continue for some time as monetization of OTT through ads is a fairly greenfield endeavor still.
The Roku Channel
What surprised us is not only the apparent growth but also the creative way in which management is moving it forward. Growth looks to be impressive:
Management argues it's already in the top five of channels on their platform, and it hasn't even been launched for a year yet.
It's already generating a "material contributor to our ad sale, not just in terms of raw volume but the opportunity for us to create new ad experiences, because it's a wholly controlled experience." One of the examples they mentioned was sponsorships.
Why is TRC (the Roku Channel) such a good idea? Basically, it allows the company to broaden its footprint. This directly widens its audience for ads, directly improving monetization.
But there is an indirect benefit in the form that TRC becomes more attractive for content owners to be part off. And this could create something of a virtuous cycle; better/more content - bigger audience - more monetization - better/more content. Here is management providing an example of this (Q2CC):
there is a Cheddar app on Roku but then there is a Cheddar live stream within the Roku channel. And our view is that at the end of the day for IP owners what's going to matter to them is traffic and monetization and that partnership with us around a property like the Roku channel is a way to supercharge the audience and earnings that they see on the platform.
And management is rapidly broadening the TRC base:
First, it was cut lose from the Roku platform.
Then, it fostered deals with the likes of Samsung (OTC:SSNLF) to be included in their platform.
Now it is becoming hardware independent as you can see the channel from any devise through a browser. You just have to log in.
The latter might look like a mundane step, but we think it's very significant as it has the potential to significantly broaden Roku's reach. The only thing viewers have to do is to sign up to the Roku platform, and you're good to go to watch a whole host of free content. That's a pretty low threshold.
Putting TRC in the browser potentially also produces a much richer user information gathering process which can be used to much better target advertisers, increasing the value proposition to advertisers (and potentially reducing the irritation factor of ads to viewers).
And while the company does license some content for money, this is small fry as there are plenty of opportunities, which will only increase with their size (Q2CC):
The important thing to know is that there's just mountains and mountains of IP out there of great programming that's being under-monetized. And the Roku channel, because of its success, has become a really powerful vehicle for content partners to reach consumers in monetizing our platform. Our success there is a big part of how we are now exporting TRC to other platforms.
And of course, another advantage of TRC is that they have total control over the ads (Q2CC):
while margins are healthy in TRC it's also an incredibly strategic channel for us for the reasons I mentioned earlier. It's a channel that we fully control. We can create new ad product and new experiences.
The Roku Audience Marketplace
Better targeting is one of the goals of management (Q2CC):
from the very beginning, our goal with advertising at Roku has been elevate, to evolve the state of advertising to make TV advertising natively targetable, interactive, much more highly measured like any digital media that a modern marketer expects.
So they came up with the Roku Audience Marketplace, here is how that works, from Mediapost:
The Marketplace will combine Roku's own proprietary audience data and technology with trusted third-party data to allow publishers to sell to targeted audiences on the Roku platform. Both programmatic and direct-selling methods will be supported by the marketplace. Essentially, Roku is opening up to publishers the first-party datasets it has used to sell addressable ads, and tying those datasets to third-party or other proprietary data. Roku is partnering with the supply-side video ad platform SpotX to integrate its data, and to ensure user privacy is protected.
This is a programmatic audience market place (a marketplace where software buys digital ads, a keen reader might have spotted The Trade Desk in our SHU portfolio at the start of the article) and data driven programmatic ads is a logical step forward to accommodate partners targeting audiences more precise and in a more automatic way. From the Q2 shareholder letter:
the Roku Audience Marketplace is based on a programmatic ad stack, enabling publishers to not only sell targeted ads, but also have the option to sell in a more dynamic, automated manner than traditional direct sales. This is another industry first
But they still do it the traditional way as well, as that's what the TV business is used to.
Some other initiatives
Roku Free is simply to make it easier to find the free content in the Roku user interface, as there are 5,000+ channels.
Roku Pay allows viewers to quickly sign up for services (subscriptions, pay-per-view, etc.) at some of the content providers.
Roku TV wireless speakers, designed for foolproof connection to Roku powered TVs, increasing loyalty and engagement.
Q2 figures
The Q2 figures were stellar and above expectation with a surprising resurgence in growth of the player boosting its gross margin to an unprecedented 22%, but that's not likely to last.
Indeed, player revenue is guided flat in Q3 and the Q2 player margins were boosted by a one-time factor (the release of $8.9M of accruals related to potential IP licensing liabilities that have not materialized).
From the Q2 shareholder letter: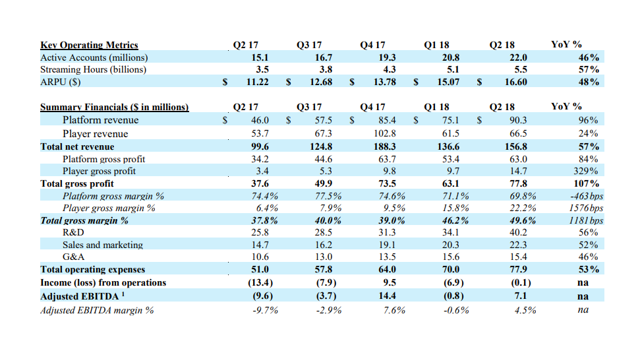 >
The company also generated very strong content distribution revenue growth in Q2. Although this isn't specified in the accounts, they argued during the CC that advertisement is two-thirds of platform revenues so this would likely be most of the rest. That's helpful, because content distribution generates very high margins.
OpEx grew slower (+53%) than revenues (+57%) providing a modicum of operational leverage, but management argues that it will continue to invest in growth (R&D, S&M) and keep the company roughly break-even.
Guidance
From the Q2 shareholder letter:

>
The full-year 2018 outlook has been improved for a second time (Q2CC):
we are again raising our full-year outlook. Our updated full-year outlook increases to 40% revenue growth and 61% gross profit growth at the midpoint, up from prior growth rates of 36% and 49% respectively when we provided outlook in May and 31% and 43% growth in our February outlook.
Revenue growth in Q3 is a bit slower due to tough comp in platform growth (Q3 2017 was +137%) and flat player growth.
Cash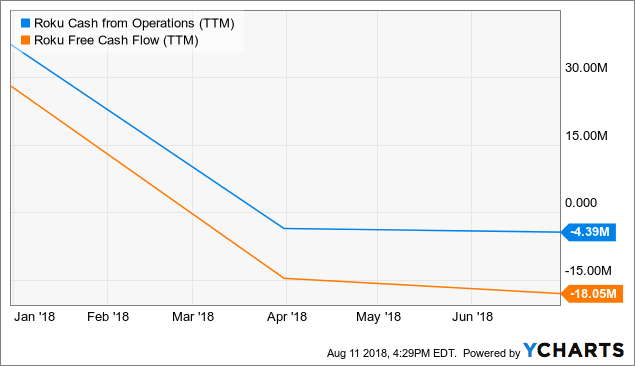 Cash flow is negative, but not at a worrying level, dilution is running a little hot though: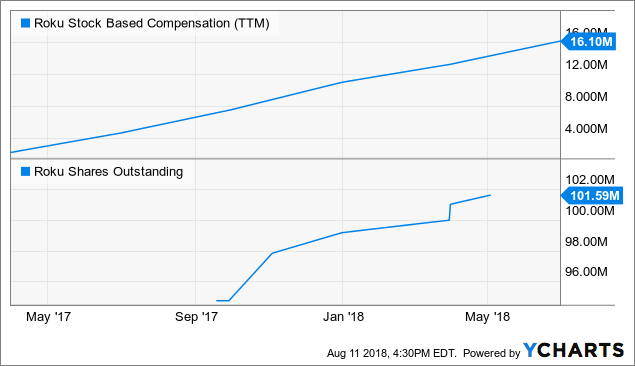 The company had $174M in cash and no debt at the end of Q2.
Risk
As we argued in our previous article, the low switching cost for users, low first-mover advantages, combined with the size of its competitors remains a considerable risk. But so far, so good, as it doesn't seem to dampen Roku's growth, so this is a latent risk that hasn't yet materialized.
And we think that TRC constitutes a bit of a risk hedging instrument as well should the likes of Amazon and/or Google cut into its platform growth. The more the company has time to build out TRC, the easier shareholders can breathe.
Valuation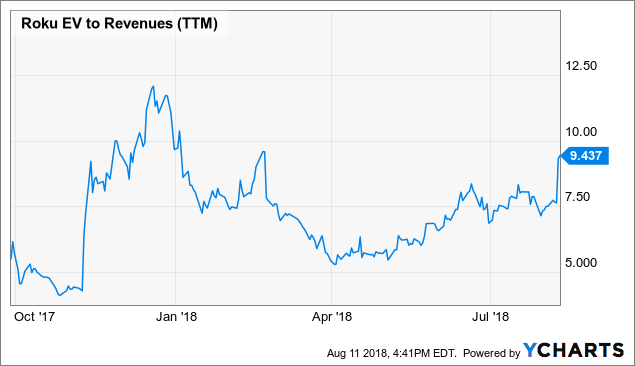 While the shares are certainly not cheap, we're not all that worried about valuation, given the company's growth rate and the fact that it doesn't make large losses or bleed large amounts of cash.
Conclusion
TV viewing is shifting slowly to OTT (streaming) and advertisers are following viewers. This is a land grab phase where different business models compete. Roku was leading the player market and it is now leading the TV license market; if it can build that out then the shares will have many years of growth to come.
That isn't a given, as switching costs are low, there are few first mover advantages and the company is up against the likes of Google and Amazon for the licensing market. But so far things are going very well for the company.
They're also building TRC as a separate platform, and that is also going very well and here the company does potentially benefit from increasing returns, as larger audiences attract more advertisers and more content, increasing audiences.
For investors, we think this is a fairly simple proposition. As long as there are no signs that competitors are seriously denting its lead in the licensing market, we think the growth will continue (albeit perhaps not quite at the current pace).
So until the competition mounts a serious fight-back, we think investors can still buy the shares, even if they have gotten a little expensive, perhaps.
Disclosure: I am/we are long ROKU.
I wrote this article myself, and it expresses my own opinions. I am not receiving compensation for it (other than from Seeking Alpha). I have no business relationship with any company whose stock is mentioned in this article.
Source : https://seekingalpha.com/article/4198155-shu-portfolio-roku-rockets